Call it a coincidence or not, at the beginning of 2017, Javie – Vi-Ja-Koi met Astrid – YourInnergy at the gezondheidsbeurs (Utrecht).
Javie is since 2006 active with vitalisers and has ample experience with various applications. His passions are koi and bonsai where water is always present as a very important ingredient. It goes without saying that his pond is provided with vitalisers for vital water and that he applies vitalisers to the aeration of the pond.
Astrid has a drive to guide people in the field of vitality and well-being. Her interest is mainly in guiding people in (re)finding balance and equilibrium. Awareness and being aware are key words in her consults.
Their interrelated interests and ideas about water, vitality, health and prevention have soon led to cooperation. Javie and Astrid are working together under the naam Energy Flows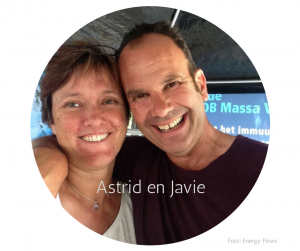 You'll find information, tips and experiences about vitalisers, vital water and energizing plates. Besides we'll post blogs of the shows were you can find us.
Are you interested, do you have questions or do you want more information? Send us an email.